Thunder/Black Fancy Tiger (Female)
★High quality shrimp are recommended to be personally picked up and purchased by visiting our store. Above shrimp photos are for reference Only because the characteristic and performance of each shrimp are all different. ★
  1. The size of selling shrimp is about 1.5-1.8 cm
  2. A very difficult specie in purification.It's the hybrid extension from the crystal shrimp and tiger shrimp. 
  3. Due to genetic problems, they must be long-term continuously selected, such as the tiger pattern fixed, solid white filled up, red color bright ... and so on. All are not easy to stabilize their gene.
  4. Hybrid Tiger-Crystal Bee can be divided into tiger type or Taiwan Tiger Pinto type (Nanacy type)
  5. The basic characteristics of beautiful Black Hybrid Tiger-Crystal Bee are deep black, tiger pattern (Taiwan tiger Pinto type), thick shell, white filled up, spotted head. Referring to the attached pictures.
  6. This system had won 4 trophies in the domestic and foreign shrimp contests from 2014 to 2018.
  7.  Breeding conditions:
       The definition of difficulty in breeding shrimps: Integrated following three factors,
      such as the Difficulty of breeding, the Threshold for this variety and their Genetic stability

8. We also provide a certificate for you. It records the shrimp variety, color and pattern  of Vin's shrimp, as a proof of bloodline and quality. Thanks for your support, buying and affirmation. The simple certificate is showed below...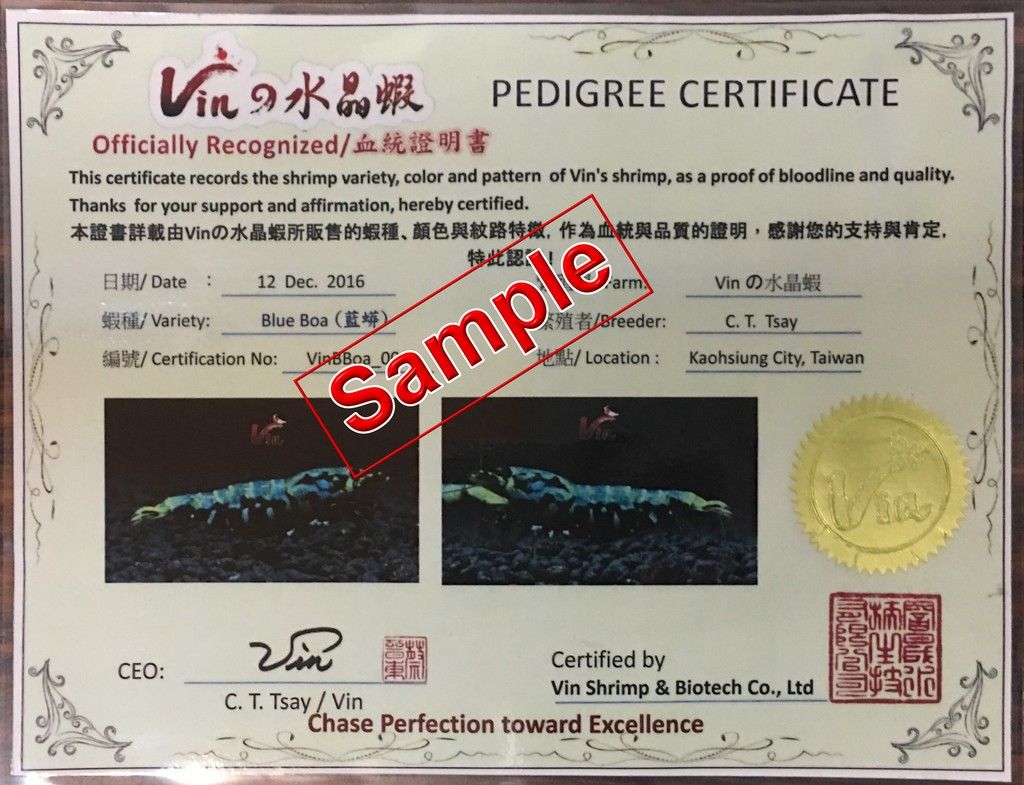 9.  Contact ways: